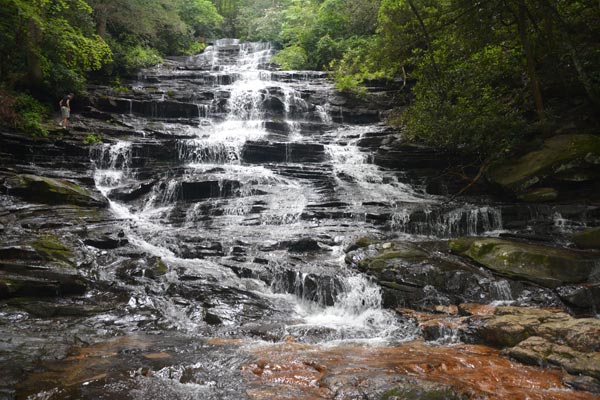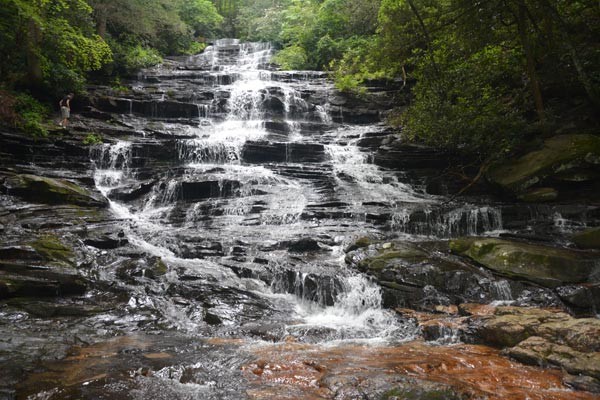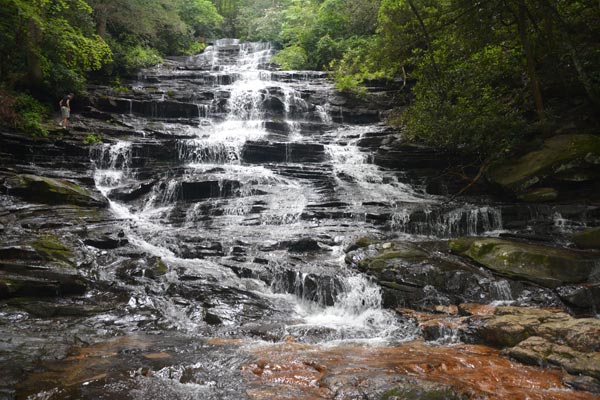 ---
Minnehaha Falls is a half-mile waterfall hike in the North Georgia Mountains, and is a must see when you are in the area and want to stretch your legs. Minnehaha Falls is a series of cascades located on Falls Creek in Rabun County, Georgia. The waterfalls near Lake Rabun and inside the Chattahoochee National Forest, descend about 100 feet over a stepped rock formation. This hike is an easy to moderate incline to the falls. The 100 foot Minihaha waterfalls is an easy (0.5 mile) half mile hike that will reward you with a natural beautiful waterfall in the Georgia mountains. Minihaha Falls cascades across the rocks at least 30 feet wide with a variety of 3-5 foot drops as it flows into a shallow flat pool of water at the bottom. There is a rock bench set in the perfect location for a great selfie or photo.
From the parking area the wooden hand rail leading to the falls is in plain sight. As you head up the trail you follow the creek on your right. About half way up the trail you see a small 10 foot cascade that you can get closer to on a side path. Once you reach 100 foot Minihaha Falls you'll find yourself in a steep-sided cove packed with rhododendron and mountain laurel. There is a rock sitting bench on the far end of the creek bed.
---
Directions: Take US 23/441 north from Tallulah Falls for three miles to the Rabun Beach Recreation Area sign. Turn left onto Old 441. Go 2.5 miles and take a left on Lake Rabun Road. Go one mile past Recreation Area. Take a left on Low Gap Road at Flat Creek Community sign. Follow Bear Gap road which forks to the left. Go 1.5 miles to the sign marking the trail on the right side of the road. It's about a five minute walk from the parking area on Bear Gap Road.
---