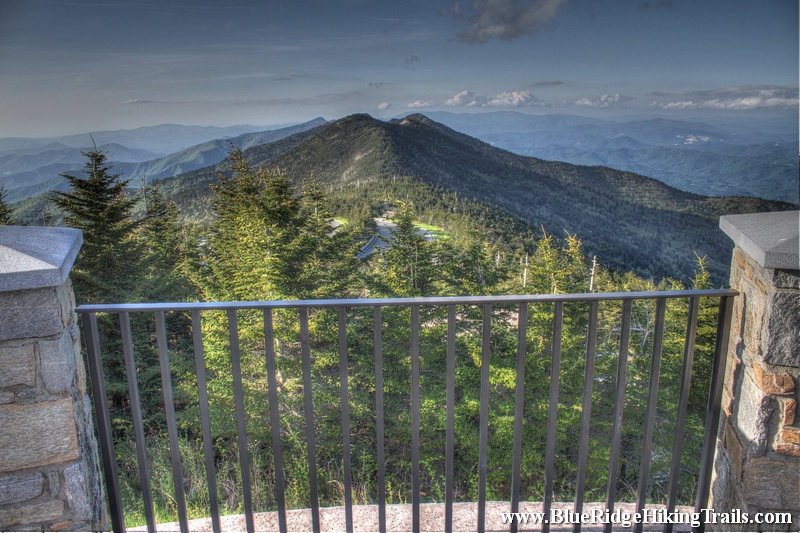 ---
Trail head: Milepost 355.4 Blue Ridge Parkway
Distance: 0.5 miles
Duration: 6 minutes
Skill Level: Moderate / Strenuous
---
Overview:

Lofty Mount Mitchell, near Burnsville, North Carolina, rises to an elevation of 6,684 feet and is the highest mountain east of the Mississippi River. The mountain is the centerpiece of the 1,946-acre Mount Mitchell State Park, which is easily accessible off the Blue Ridge Parkway.
Mount Mitchell State Park offers numerous hiking trails as well as a museum, restaurant, concession stand and gift shop. A new observation deck, accessible by wheelchair, offers breathtaking panoramic views.
Mount Mitchell State Park contains extensive spruce-fir forest, an ecosystem that is common in northern climes, but which is only found in a narrow band in the Appalachian Mountains. This natural community is characterized by evergreens, particularly red spruce and Fraser fir.
Some of the uncommon animals that inhabit Mount Mitchell are the endangered northern flying squirrel, New England cottontail, bobcat, and many species of salamanders. Some of the birds that breed here are more typical of northern conifer forests: red-breasted nuthatch, brown creeper, and golden-crowned kinglet.
Long before it was a State Park, Mount Mitchell was a popular tourist destination. In the 1920s, after the logging operations ceased on the mountain, the former logging railroad from the nearby town of Black Mountain was converted into a tourist train. Three years later, the rails were removed, and the rail bed became a motor toll road. For more than a decade, tourists visited the area along this route, until the construction of the Blue Ridge Parkway put the toll road out of business.
The mountain was named in honor of Dr. Elisha Mitchell, an educator and scientist from Chapel Hill, who died while climbing the mountain in 1857 in his effort to prove it was the highest peak in eastern North America. The grave of Dr Mitchell lies next to the observation deck.
Click on the link below to hear more in a Living Traditions Moment
---
Hours of Operation
Park hours are:
November – February 8 am – 6 pm
March – April 8 am – 8 pm
May – August 8 am – 9 pm
September – October 8am – 8 pm
During the winter months, the Park is often inaccessible from the Parkway due to snow and ice. The Park is closed on Christmas Day.
Park office hours are 8 am – 5 pm daily. In the winter months, the office is closed on weekends.
---
Admission Fees
There is no fee to enter the Park, but there is a charge for campsites.
Picnic shelters are offered for free on a first-come, first-served basis, but can be reserved in advance for $33 a day.
Hours of operation and fees are subject to change. Contact directly for most current information.
---
Location
Mount Mitchell State Park is located off the Blue Ridge Parkway. At milepost 355.4, turn north on NC 128 and go 2.4 miles to the Park entrance.
Mount Mitchell State Park
2388 State Highway 128
Burnsville, NC 28714
(828) 675-4611
---
Tips:
Safe place to let the kids out to run around around.
Great spot for a picnic or something to drink.
Do not need any hiking shoes for this walk.
Bring the Camera for mountain view photos, 360 degree views
---
Mount Mitchell Lookout Tower Trail Map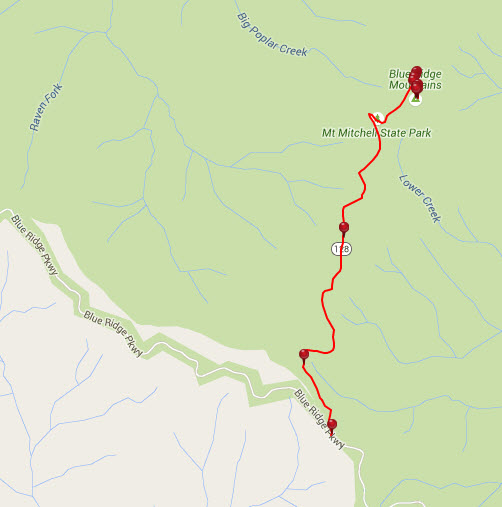 ---
Photo Gallery
*Click on thumbnails for larger viewing and slideshow