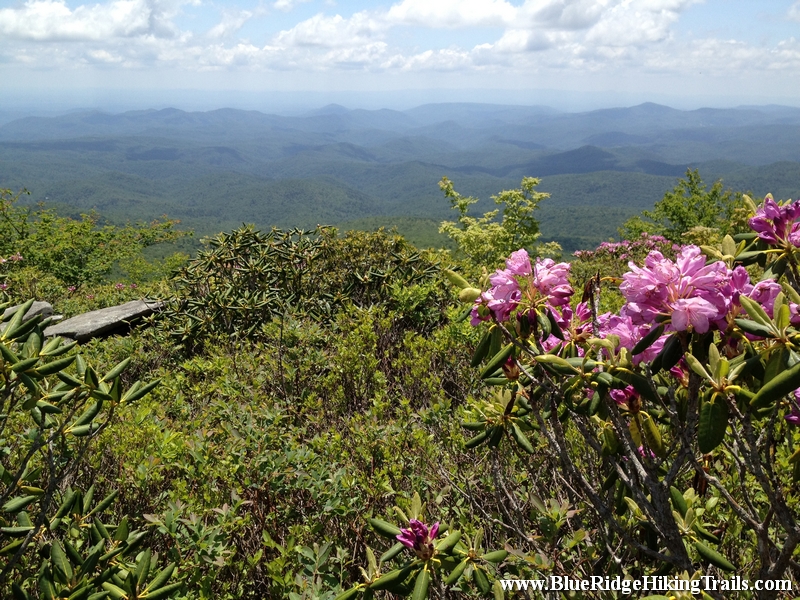 ---
Trail head: Milepost 302.8 Blue Ridge Parkway
Distance: 1 mile
Duration: 2 hrs
Skill Level: Moderate/Strenuous Hiking Trails
---
Overview:
Rough Ridge Overlook and Trail starts at the bottom of the Blue Ridge Parkway, just South of the Blue Ridge Parkway. This is a major section in the Tanawha Trail system which is 13.5 miles long. (See another part of the trail by clicking on the Linn Cove Viaduct Trail)
The first thing you see is a natural waterfall cascading down the rocks at the parking lot. You then ascend the rooted staircase, and cross the bridge; beyond this point there are no animals allowed.
You then continue on the trail up rock made staircases until you reach the first platform of stairs, where the views are breathtaking and its worth a stop for water and pictures. Not only can you see the parkway below and the cars traveling beneath you, but to the right is a great view of the Linn Cove Viaduct and the backside of Grandfather Mountain and McRae Peak. At this point you are only 1/3 of the way up the trail.
You continue through the very narrow trail of bushes and rocks as you climb higher and higher to you reach a ledge of rocks where you have a great show back down at the first platform. The pictures and videos from here are scenic with a 270 degree view of the mountains that reach out as far as the eye can see. Here you are about 2/3 of the way there.
Keep climbing cause the top rock gives you a 360 degree view of the entire area and a great place to stop and take in the mountain views and fresh air. I recommend bringing a picnic or something to eat cause you want to just sit and take in the scenery. I also recommend going on a nice day, if its not hazy you might even see the Charlotte skyline in the distance. What goes up must go down. The hike down is easier but you might have to wait at certain sections as people come up the same trail because the trail is not very wide.
You have now completed in my book one of the best vantage points for picture and video taking on the Blue Ridge Parkway. Enjoy the hike is worth the climb!
---
Tips:
Must Have Hiking Shoes
Bring a few Bottles of Water
Be Patient and allow other hikers to move past you coming and going due to the trail not being wide.
Worth packing a picnic or a lunch
Not small kid friendly about age 5 is the minimum
No Pets allowed past the bridge
---
---
Photo Gallery
*Click on thumbnails for larger viewing and slideshow