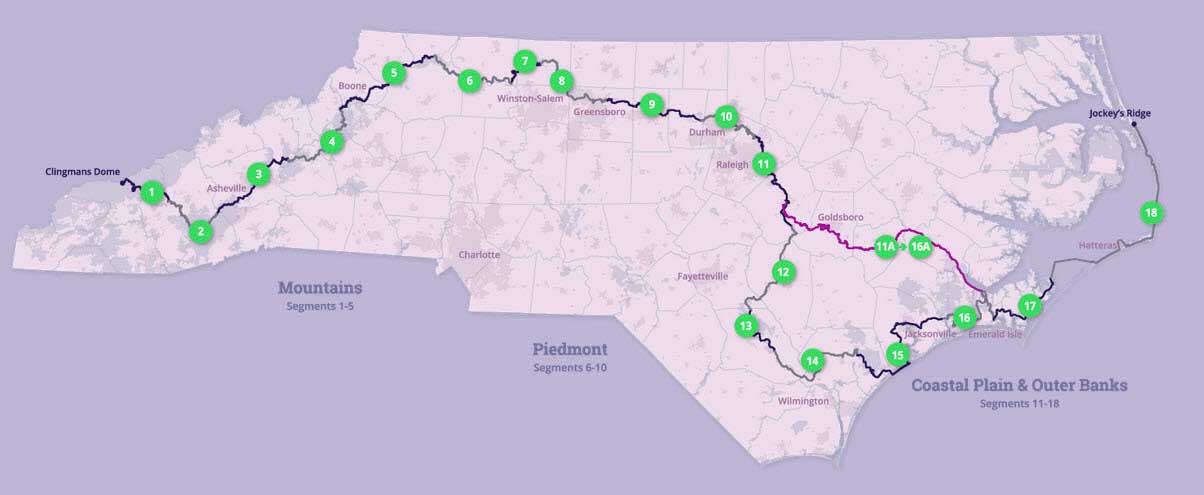 ---
Mountains to Sea trail is a 1,175 mile hiking trail from Clingmans Dome at the top of the Great Smoky Mountains National Park in Tennessee to Jockeys Ridge in the Outer Banks in North Carolina. There are many trail access points along the Blue Ridge Parkway.
It began as a dream of Howard Lee, former secretary of the North Carolina Department of Natural Resources. Through help and dedication of volunteers the trail now stretches across the state.
When hiking the Mountains To Sea Trail from West to the East hikers enjoy mountain vistas, Piedmont farmsteads, colonial towns, old textile villages, and mystical swamps. About 680 miles of the Mountains To Sea Trail are on trails connected to back roads. There is even an optional paddle route to link the Mountains To Sea trail.
---
Segment 1 Peak To Peak – 46.8 miles – Clingman's Dome to Waterrock Knob
Segment 2 The Balsams – 61.0 miles – Waterrock Knob to Pisgah Inn
Segment 3 The High Peaks and Asheville –  67.7 miles – Pisgah Inn to Black Mountain Campground
Segment 4 The Gorges, Peaks and Waterfalls – 75.2 miles – Black Mountain Campground to Beacon Heights
Segment 5 The The High Country – 90.3 miles – Beacon Heights to Devils Garden Overlook
Segment 6 The Elkin Valley – 67.4 miles – Devils Garden Overlook to Pilot Mountain State Park
Segment 7 The Sauratown Mountains – 36.0 miles – Pilot Mountain State Park to Hanging Rock State Park
Segment 8 Rivers, Railroads and Lakes – 64.0 miles – Hanging Rock State Park to Bryan Park
Segment 9 Revolution & Textiles – 60.1 miles – Bryan Park to Eno Rover State Park
Segment 10 Eno River & Falls Lake – 77.6 miles – Eno Rover State Park to Falls Lake Dam
Segment 11 Neuse River Greenways & the Let'Lones – 64.8 miles – Falls Lake Dam to Howell Woods
Segment 11A-16A The Neuse River Paddle Route – 170 miles – Smithfield to the Neusiok Trail
Segment 12 Agricultural Heartland – 64.1 miles – Howell Woods to Suggs Mill Pond Game Land
Segment 13 Carolina Bay Country – 38.9 miles – Suggs Mill Pond Game Land to Singletary Lake State Park
Segment 14 Land of History – 65.8 miles – Singletary Lake State Park to Holly Shelter Game Land
Segment 15 The Onlsow Bight & Jacksonville – 90.6 miles – Holly Shelter Game Land to Stella
Segment 16 The Croatan and Neusiok Trail – 67.9 miles – Stella to Oyster Point Campground
Segment 17 Down East North Carolina – 48.0 miles – Oyster Point Campground to Cedar island Ferry
Segment 18 The Outer Banks – 82.2 miles – Cedar island Ferry to Jockey's Ridge State Park