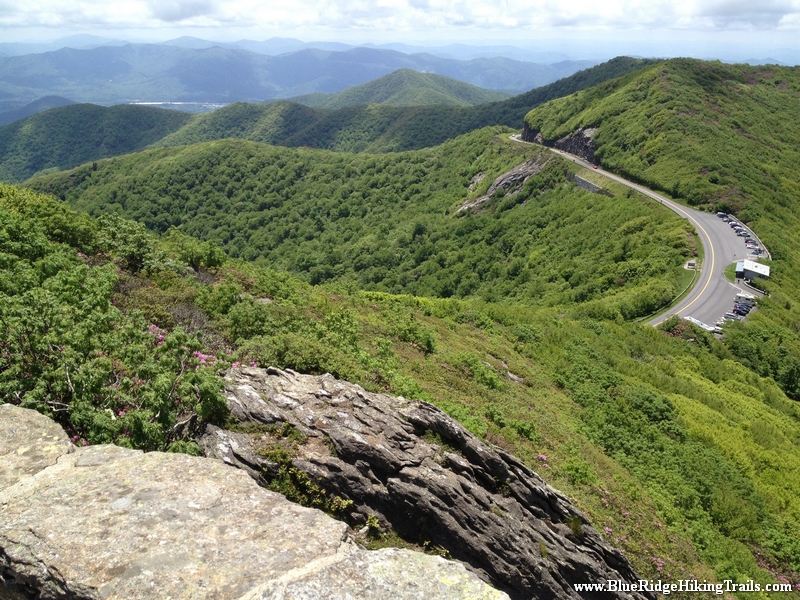 ---
Trail head: Milepost 364 Blue Ridge Parkway
Distance: 0.9 miles
Duration: 60 minutes
Skill Level: Moderate Hiking Trail
---
Overview:
Craggy Gardens and Craggy Pinnacle Trail is one of the most beautiful trails to hike on the Blue Ridge Parkway when the Rhododendrons are blooming forming a canopy of magenta and purple color against the greenery and the Blue Ridge Mountains.
Craggy Gardens is located on milepost 364 on the Blue Ridge Parkway and is about 1hr 30 min from Banner Elk North Carolina.
Your trail hike starts in the parking lot…we parked in the lower parking lot showing you a magnificent  180 degree panoramic video of the Blue Ridge mountains. Then continue to the upper parking lot where you will see the parkway sign "Craggy Dome" the trail head is just on the other side indicated by a sign. The first part of the trail is covered by color as the plants create a canopy in which you walk under on the trail. The first part of the journey is a gradual climb; then you reach a bend and a nice elevated rock with a view.
The trail then leans more upward until it reaches a fork to the right where there is a plateau and many scenic overlooks. As you loop back around the trail with a sign states left to the upper lookout and right to the lower lookout. The lower lookout just allows you to see the visitor center and the mountains in the distance about a 180 degree view. If you want to feel like you are on top of the world take the upper lookout trail until you reach the rock wall with stairs. As you emerge from the stairs you will see a 360 degree lookout with a beautiful scenic landscape of the Blue Ridge mountains, the Asheville watershed lake, and more.
What goes up must come down as the walk down the mountain trail is a lot more easier than going up.
---
Tips:
Great Mountain Views
Family friendly trail
Moderate Hiking Trails
Hiking shoes or sneakers
Camera or video recorder
Bottle of water
Plan the hike on a nice sunny day
---
---
Photo Gallery
*Click on thumbnails for larger viewing and slideshow